"We want to provide a warm and caring environment for pets and their owners while offering the best medical and surgical veterinary services."
– Dr. Keith Robbins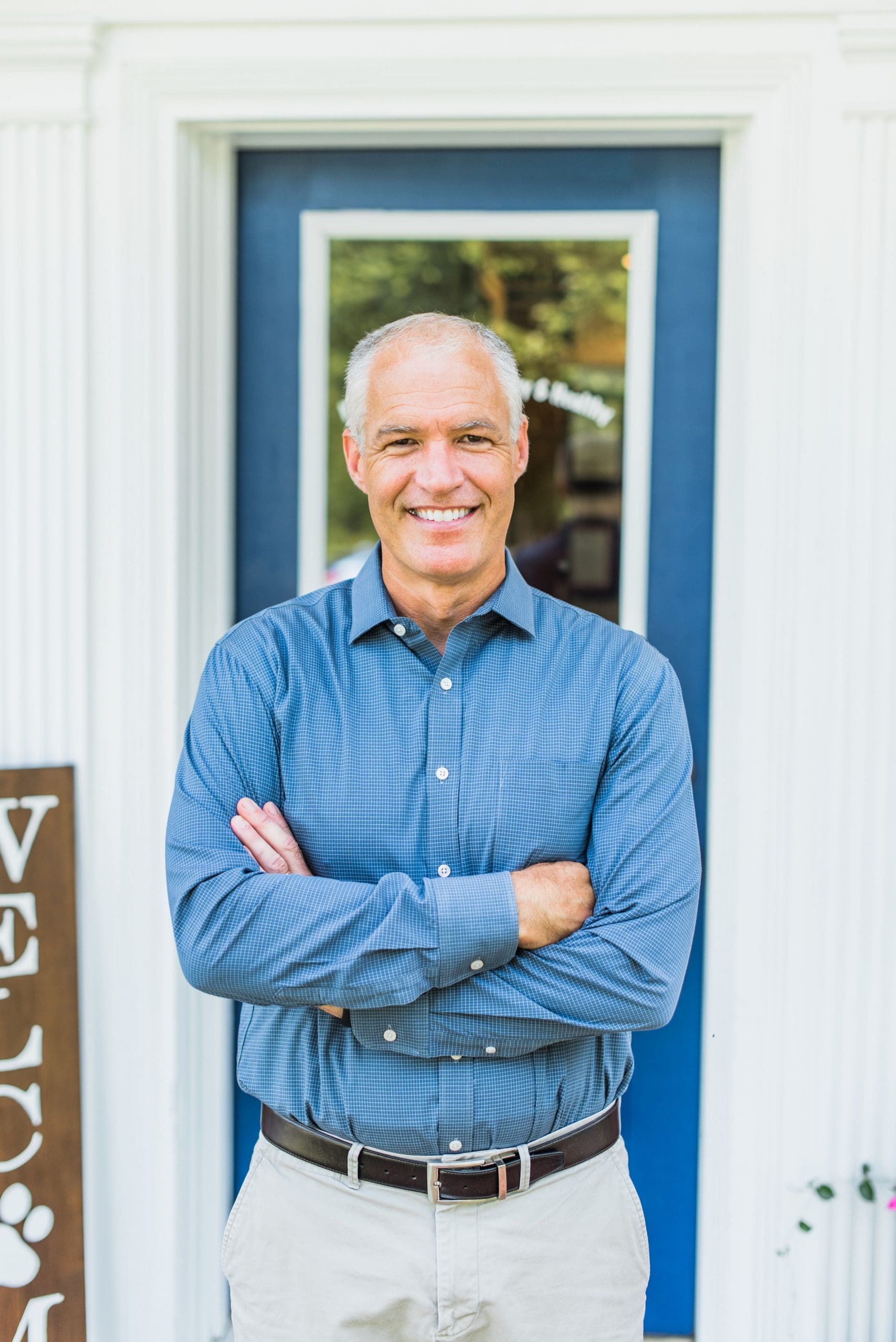 Dr. Robbins is a 1996 graduate of Cornell University, College of Veterinary Medicine and has been practicing as a small-animal veterinarian ever since. After graduating from Cornell, he worked as a small animal veterinarian in rural New Jersey. After a year, Dr. Robbins moved to New York City and joined a busy, progressive Manhattan veterinary hospital. In late 2001, he moved to the Washington DC area and worked in Maryland at a small animal hospital. In April 2006, Dr. Robbins bought Catoctin Veterinary Clinic.
Dr. Robbins was attracted to Catoctin Veterinary Clinic because of the warm, caring environment and solid veterinary reputation that Dr. Clinton Pease had fostered for over 20 years. In 2006, Dr. Robbins purchased Catoctin and has been committed to continuing the open, caring, and nurturing environment of the clinic.
He currently lives in Brambleton with his wife and three children. The most recent addition to the family is a rescued dog named Elliot who Dr. Robbins endearingly refers to as "The Spoon" (not the sharpest knife….). When Dr. Robbins is not at Catoctin he enjoys playing basketball and soccer and watching his kids' endless sporting activities. In 2018 he had the opportunity to visit Italy and Spain, which whet his appetite for travel.
Dr. Robbins, along with the other veterinarians at Catoctin Veterinary Clinic, is dedicated to providing his clients and furry patients with the best, compassionate care. He has been the owner at Catoctin for over a dozen years and fully plans on being here for at least another dozen more.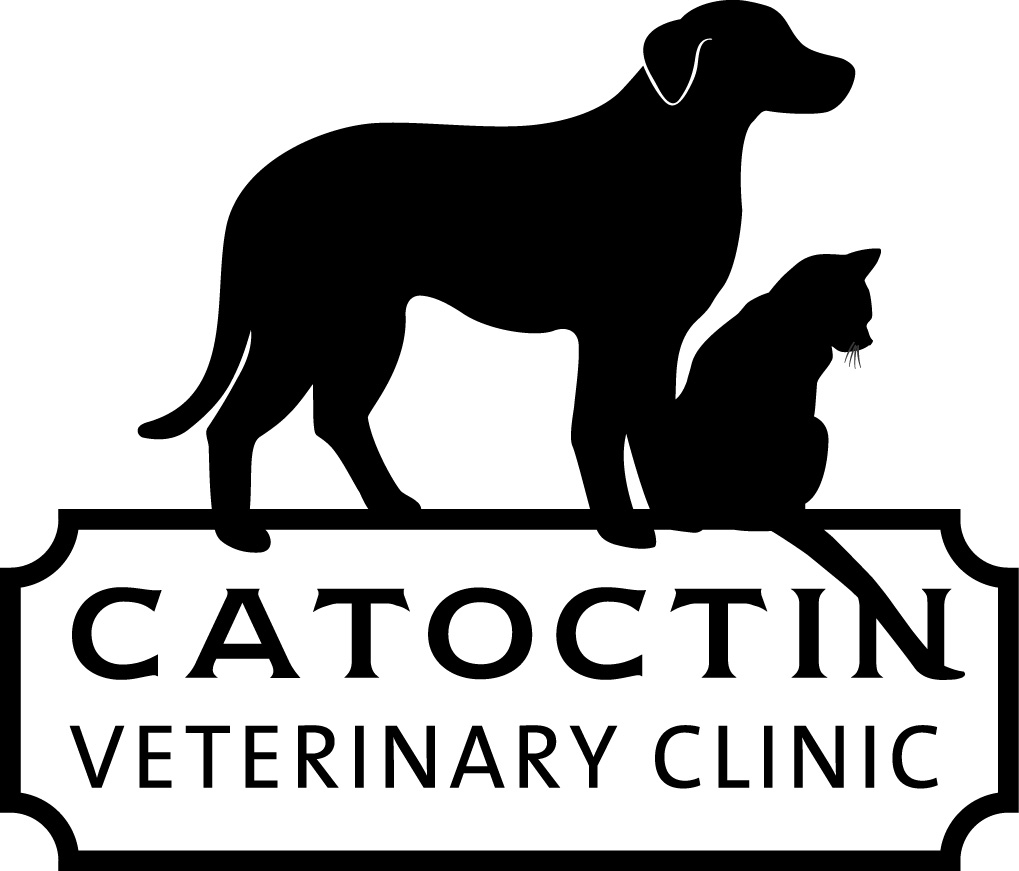 Dr. Conway is a native of Loudoun County who graduated from Wellesley College in 1985 and from the Virginia-Maryland Regional College of Veterinary Medicine in 2004. She initially entered veterinary school to become an equine veterinarian, but changed her concentration to small animal medicine during her education. After graduation she completed an internship at a local veterinary specialist and emergency care center located in Gaithersburg, Maryland. While there, she worked with a number of specialists including veterinary surgeons, neurologists, cardiologists and oncologists. Dr. Conway joined Catoctin Veterinary Clinic in 2007.
Dr. Conway has developed a loyal following within the clinic. She has made veterinary medicine and the health and wellbeing of her patients her life's work. She works tirelessly and exhausts all efforts for each cat or dog in her care. She has a passion for animals that is undeniable.
Dr. Conway currently has six Jack Russell Terriers, but is always looking to rescue more! She works with numerous rescues and helps place stray Jack Russell Terriers into good homes throughout Loudoun County. She is a wonderful clinician and has also become our local pet nutrition expert. Outside the office she enjoys running, cycling, and mountain biking. She loves to stay active and is always working on home improvement projects at her farm. She is available for appointments Tuesday through Friday and every 3rd Saturday.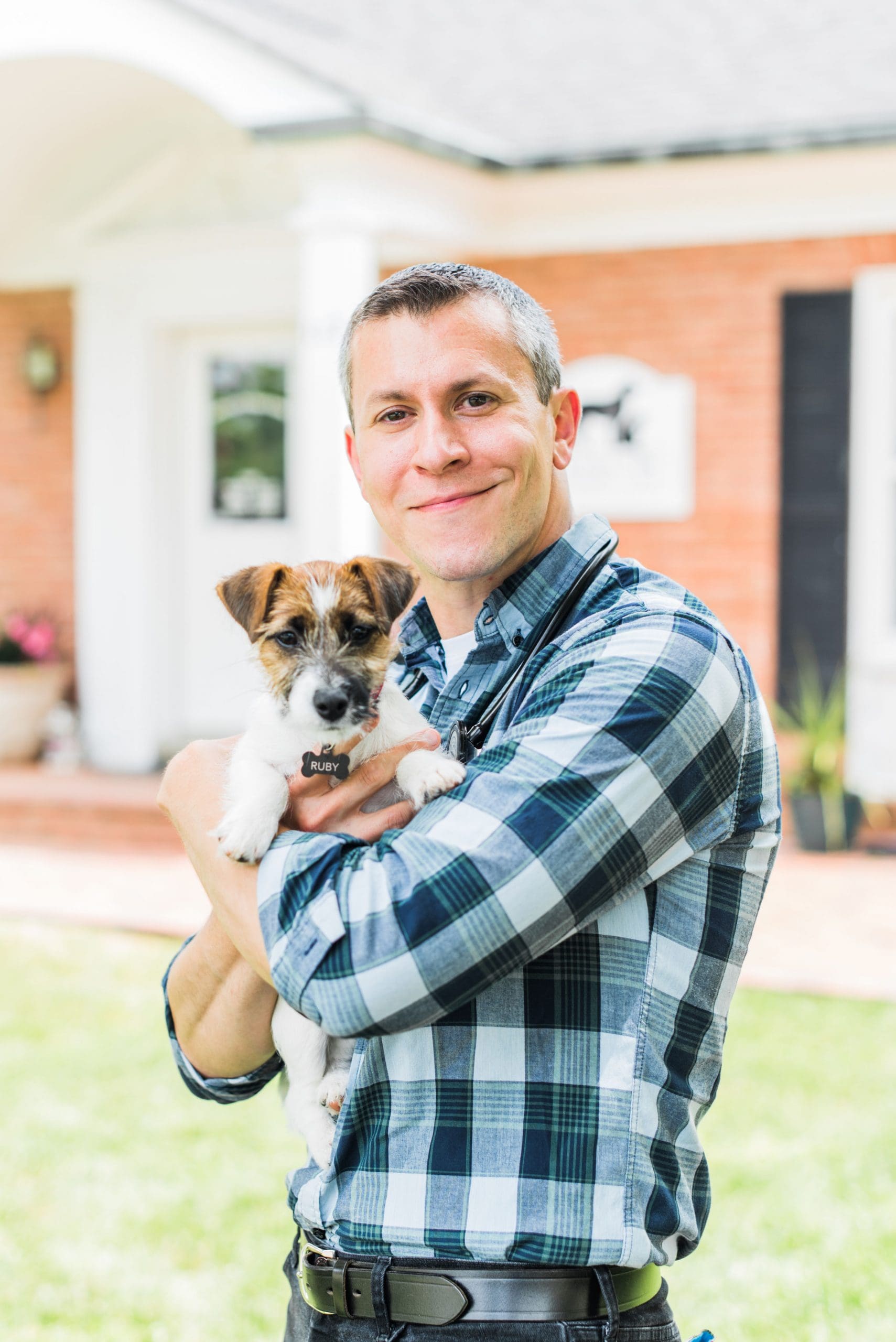 Dr. Henneke grew up in Florida where he attended and earned his Bachelor of Science degree from the University of Florida. He went to veterinary school at St. Matthew's University and completed his clinical training at the University of Minnesota, College of Veterinary Medicine, graduating in 2012.  After working for a year in St. Paul, Minnesota, Dr. Henneke decided to move East toward the warmer climate of Virginia. Dr. Henneke joined Catoctin Veterinary Clinic in 2018.
Dr. Henneke has a very welcoming bedside manner when it comes to both the animals and owners. He is extremely thorough in his explanations and educates the owner on their pet's health and wellbeing as much as possible. This ensures that owners are more empowered about their animals' health when leaving their appointments. 
In his free time, he loves to spend time with his wife and their dog, Ruby. Fun fact, his wife is also a vet! Ruby is their precious new addition to the family. She is a Jack Russell Terrier who is full of spunk and energy. Dr. Henneke also enjoys hiking, going to the local farmers' market, watching movies and traveling with his family. Their last adventure was to Ireland! He is available for appointments Monday, Tuesday, Wednesday, Friday and every 3rd Saturday.
 Dr. Carson comes to us from a local clinic with 4 years of experience in small animal medicine. Dr. Carson is a graduate of Cornell University just like Dr. Robbins!
Dr. Carson is originally from upstate New York and enjoys experiencing the culture of every new place he visits. He was introduced to the veterinary field as an adolescent and has continued to pursue his passion ever since. As an undergraduate, he traveled to Berlin, Germany and worked with a small animal veterinarian and various professors studying veterinary medicine and the German language. He has continued to pursue his passion for veterinary medicine in the beautiful state of Virginia.
Dr. Carson is a strong believer in the human-animal bond and the joy that beloved pets introduce into our lives. One of his greatest passions in veterinary medicine is working with clients on a personal level to strengthen that bond between animals and people and ensure that our beloved pets have the best quality of life that they can achieve. He has a special interest in animal dentistry and in fact teaches veterinary technician at Northern Virginia Community College. Dr. Carson brings a plethora of medical and surgical skills to our clinic.